NEW POLYMER GUIDE BUSHING, A NEUKOMM SA EXCLUSIVITY

Our new guide bushing in one piece of polymer is an exclusive product only made by NEUKOMM SA

The polymer guide bushing is a new concept of bushing, results of several years of research and trials.
It provides economical solutions in the guiding of bars of any material in swiss type turning.

It solves the problems of seizing and marking. Its low price allows significant savings in tooling costs.

The guide bushing is entirely made of polymer, body and bore. The polymer is self-lubricating. Its coefficient of friction is very low, the bar slides easily without play in the bore. No seizing. No marks on the bar.

The polymer guide bushing is recommended for all types of materials, Titanium, Stainless steel, free-cutting steel with or without Lead, brass, plastic, Peek, fiberglass, etc.

Its price is economical.

The set up of the guide bushing is easy, like a carbide bushing with more flexibility.

The concentricity of the guide bushing guarantees the accuracy.

Its absorbs the diameters irregularties of the bars.

The life of a polymer guide bushings depends on several parameters like a carbide bushing, that is machined material, cutting  speed, type of parts, cutting oil, use in rotating or non rotating bushholders, etc.

The polymer meets the increasingly restrictive environnemental standards.

Available for standard guide bushings.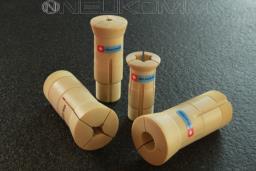 Polymer guide bushings